envizagae — 24.11.10, 21:15:08
Martin R. - birds beasts and three songs for a monster (envcd028)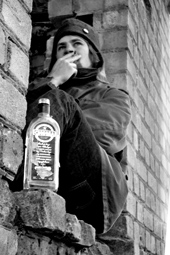 Out now Martin R. - birds beasts and three songs for a monster (envcd028)
Martin R. is, 29 already. As most probably everyone he have been interested in doing things since childhood. It so happened that creating musical works in time became predominant occupation to him. It's a platitude, but he don't think his works belong to a defined genre of any kind. At the moment he is mostly interested in exploring possible sound worlds composed in bigger part for acoustic instruments not meaning that he have no interest in electronic sounds, but simply because it is quite new to him. Some time ago he had this strange dream - he was in a shop and saw an instrument. It was completely crazy instrument - it would play words and sounds simultaniously , it would make all these odd patterns that would get out of control, but by using letter keyboard (it had one - very small, yet easy to type) you could get it somehow under some form. The instrument also had highly sensitive strings, which you should play by blowing at them. They would make very resonate sounds - cold and so fresh. It looked like a bowed mini synthesizer. he tried the instrument, got lost in the music and decided to buy it as his first true electroacoustic instrument. And it did cost only 100 euros. But since most of the time one has to live not in a dream and money are not so easily found, one tries to make do with the more ordinary instruments and musical thoughts one happens to stumble upon. The dream then is to simply try and live it..
Birds beasts and three songs for a monster is Martin R's debut album.
Listen and buy the album in release section
xmlns:og="http://opengraphprotocol.org/schema/"
xmlns:fb="http://www.facebook.com/2008/fbml">
content="Martin R. - birds beasts and three songs for a monster
"/>
Ablegt im Blog — comments (0)